Graffiti Artist: Crack //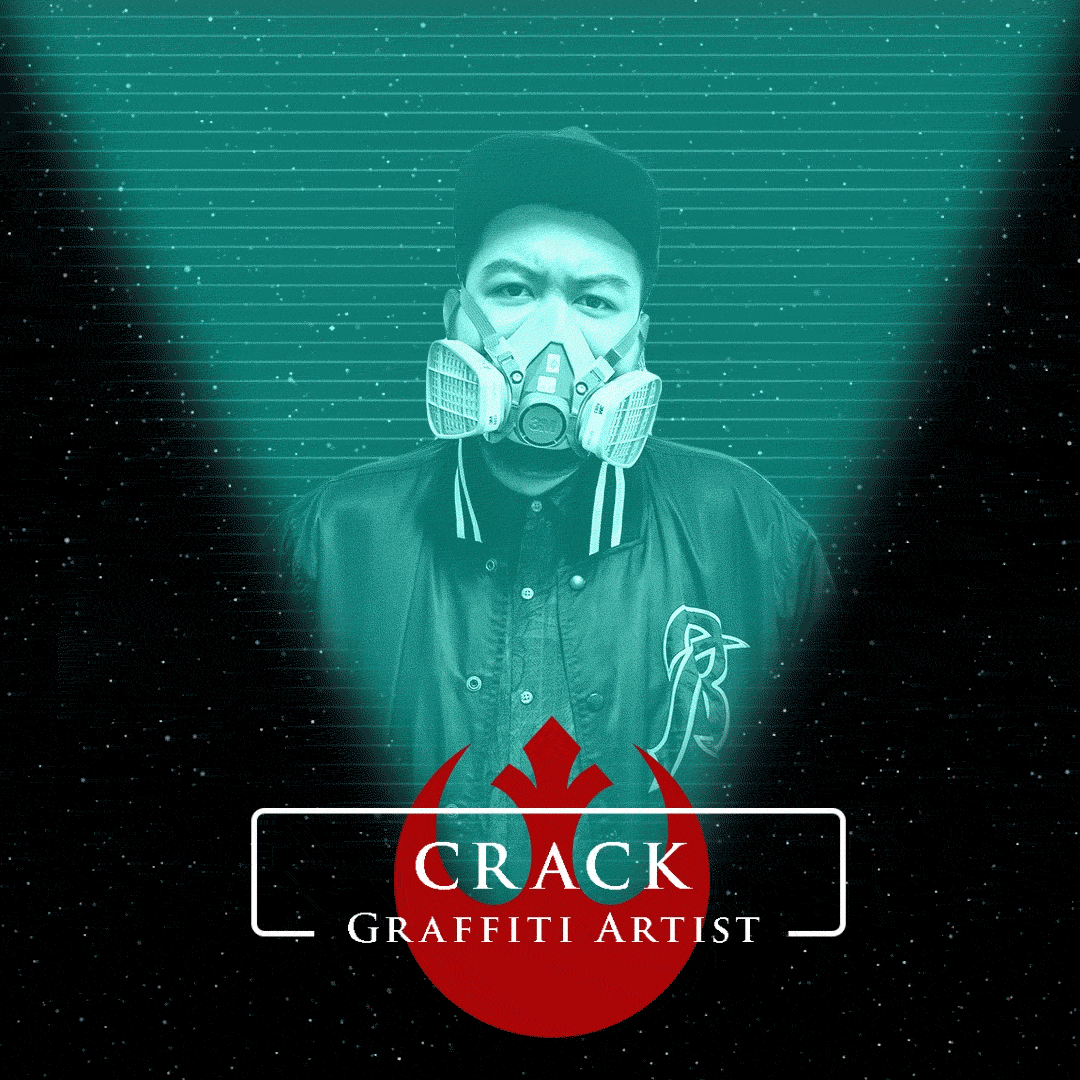 "Walaupun banyak yang tidak suka tapi menurut saya graffiti itu seni. Graffiti memberikan saya kebebasan bicara, menuangkan pendapat yang dapat langsung dinikmati oleh banyak orang. Ketika ada yang melarang saya, saya selalu jelaskan alasan kenapa saya melakukannya. Setelah mendengar alasan di balik ini semua, mereka biasanya mengerti - bahkan mereka bisa menghargai karya saya. Kamu harus mencintai apapun yang kamu lakukan, dan yang terpenting, selalu cintai prosesnya."
Untuk melihat secara langsung masterpiece graffiti kolaborasi CRACK dan Rogue One, kunjungi mall Pacific Place mulai 28 Nov 2016 - 8 Jan 2017. Rogue One: A Star Wars Story akan hadir di Bioskop seluruh Indonesia, Desember 2016.

"People may dislike it but I see graffiti as an art form. It's important for freedom of speech and it's a form of accessible art for the public. When people try to stop me from continuing with my graffiti work, I would tell them why I do it. After which, most of them will understand it - And they'll even tell me that they love it once I finish it! You need to love what you do, break yourself, harvest what's broken, and most of all - enjoy the process."

To view CRACK's graffiti masterpiece in collaboration with Rogue One, visit Pacific Place 28 Nov 2016 - 8 Jan 2017. Rogue One: A Star Wars Story – in cinemas now.
Interview with Graffiti Artist: Crack //
1. Bagaimana Anda mendeskripsikan diri Anda dalam 3 kata?
Liberated, Useful, Rewarded
2. Apa yang Anda sukai dari hal-hal yang Anda kerjakan?
Saya suka doodling, sketching, dan menggambar karakter kartun, biasanya saya mengambil inspirasi dari karakter-karakter yang saya lihat ketika masih kecil. Saya mencoba untuk membuat graffiti sejak SMA, beli cat murah menggunakan uang yang saya kumpulkan dari uang jajan saya dan dari situ saya mulai menulis nama sekolah ditempat-tempat umum. Saya mulai di jalan, dan mulai fokus untuk membuat graffiti, setelah itu graffiti menjadi passion saya dan saya mengambil jurusan Desain Komunikasi Visual ketika kuliah di Bina Nusantara University. Saya mulai melatih kemampuan seni saya selama 7 tahun ini, membuka wawasan saya, mencoba berbagai medium, berkolaborasi dengan brand maupun seniman lain, namun yang membuat saya selalu jatuh cinta adalah bau dari spray can dan adrenalin yang ditimbulkan ketika kita tertangkap basah oleh polisi.
3. Apa rintangan terbesar Anda dalam mengembangkan minat Anda dan bagaimana cara Anda mengatasinya?
Ketika saya sedang stuck dan tidak ada inspirasi, biasanya saya main game, browsing di Internet, blog atau dengar musik, untuk saat ini, saya sangat bersemangat untuk tahu lebih lagi tentang street art dan graffiti, jadi saya pergi ke pameran sesering mungkin. Saya juga mulai share karya saya ke seniman lain yang juga membuat karya-karya yang selalu menjadi inspirasi untuk saya.
4. Pernahkah Anda menghadapi situasi dimana Anda melakukan sesuatu yang tidak pernah dilakukan orang lain, atau yang kebanyakan tidak berani dilakukan orang lain atau semacamnya?
Saya bisa bilang membuat graffiti di tempat umum saat malam maupun siang hari, ilegal atau tidak, hal ini bukan sesuatu yang banyak disukai orang , karena graffiti masih sering dianggap sebagai bentuk perusakan. Tapi saya melihat graffiti sebagai seni rebellion, seni ini memberikan kebebasan untuk berbicara dan dapat dinikmati oleh banyak orang. Ketika ada yang melarang saya, saya selalu jelaskan alasan kenapa saya melakukannya. Setelah mendengar alasan di balik ini semua, mereka biasanya mengerti - bahkan mereka bisa menghargai karya saya.
5. Bisakah Anda berbagi kepada kami momen paling berharga yang pernah Anda alami ketika melakukan niat Anda? dan bagaimana cara Anda mencapainya?
Jika mau jujur, bekerja sama dengan Disney dan Star Wars adalah penghargaan yang paling luar biasa dan tidak dapat saya lupakan, saya adalah fanboy Star Wars sejak kecil dan saya masih tidak bisa membayangkan saya menjadi bagian dari inisiatif ini. Kamu harus mencintai apapun yang kamu lakukan, dan yang terpenting, selalu cintai prosesnya.
6. Adakah saran yang ingin Anda berikan kepada diri Anda yang lebih muda?
Cintai teman, keluarga, dan jangan mencoba untuk menjadi original, cobalah untuk menjadi bagus.
7. Apa yang paling Anda nantikan dari Rogue One? Apakah ada karakter Rogue One yang Anda rasa memiliki kedekatan dengan Anda? Apa alasannya?
Ini adalah momen yang indah jika kamu adalah fans Star Wars. Yang paling saya mau lihat di Rogue One adalah Orson Krennic, dia sangat dingin dan mungkin punya rahasia besar. Saya rasa dia adalah supreme leader Snoke kalau saya melihat wajahnya. mungkin saya, kalau saya memilih satu karakter, saya mau K-2s0 karena semua orang suka droid and remember captain say "you are a friend and i will not kill you".
1.How would you describe yourself in 3 words?
Liberated, Useful, Rewarded
2. What do you love about what you do?
Ever since I was a kid, I loved doodling, sketching, and drawing cartoon characters that I saw or imagined. Soon after, I tried graffiti when I was in senior high school. I bought some cheap spray cans with my lunch money and started making school name tags all over the place. I began focusing on making graffiti, and that was when it became something that I was passionate about. I went to pursue Visual Communication Design in the School of Design in Bina Nusantara University. Having practiced art and design for 7 years now, doing this has opened up my mind, allowed me to work with different mediums, collaborate with brands and other individuals. The thing that I love most about what I do is probably the smell of spray cans and the adrenaline when you get caught by the police, haha.

3. What was your biggest hurdle in developing your passion, and how did you overcome it?
Whenever I'm stuck or uninspired, I'd just play games, surf the internet or listen to music. At this moment, I'm just so excited about what is happening in street art and graffiti, so I go to as any exhibitions as I can. I also share my works with other designers or artists who have created such remarkable works which inspire me. (Doesn't really answer the question?)

4. Have you faced a situation where you were doing something that no one else have done, or dared to do, or something that people were against? Tell us about it and how you faced it.
I would say, making graffiti at public spaces. Regardless whether it's illegal or not, or whether it's during night or day, it's something that many people dislike. But I see graffiti more as an art of rebellion; it's an art form with the idea of freedom of speech and free art for the public. So when people try to tell me to stop making graffiti, I would tell them why do it. They all mostly understand it after I explain it nicely and slowly, and love it when I finish it.

5. Can you share with us about the most rewarding moment you've had while working on your passion? How did you achieve it?
To be honest, working with Star Wars right now is the most rewarding and unforgettable moment of my life. I've been a Star Wars fanboy since I was a kid, and would never imagine being a part of it. I just think you just need to love with you do, break yourself, harvest what's broken, and most of all enjoy the process.
6. What advice would you give your younger self?
Love your friends and family, and don't try too hard to be original, just try to be good.
7. What are you looking forward to most in Rogue One? Are there any Rogue One characters that you relate to? Why?
Now's an awesome time to be alive when you're a Star Wars fan. What I'm looking forward to see most in Rogue One is Orson Krennic, because he's so cold and probably has secrets behind him. I think this guy is Supreme Leader Snoke – just look at his face, haha. If I could choose any character, I would want to be K-2SO because everybody loves the droid, and the Captain says "you are friends, I will not kill you", haha.